The Best Cheap Moscato
Relax and unwind with these top Moscato wines.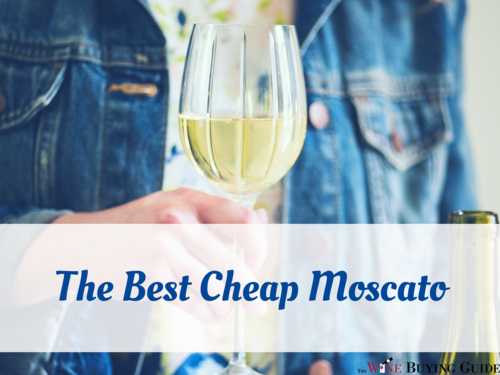 There's something about Moscato that just feels fun and relaxing. Maybe it's the aromatic, floral aromas in the wine. Maybe it's the crisp fruit flavors, with a little bit of sweetness. Or maybe it's that there seem to be so many delicious options for cheap Moscato wine! We have a list of our favorite affordable Moscato wines for every budget, and we have some great bottles to share with you.

As a bonus, you can find many of these wines at your local supermarket, making it almost too easy to pick up one of these affordable wines on the way home. Enjoy these recommendations, and don't miss our ideas for good cheap Moscato wine brands at the bottom of the article!
Best Moscato Under $15
There are a lot of terrific cheap Moscato wines to be found for under $15 per bottle. We love this price point because it's great for either a weekend or a weeknight wine. If you have guests who enjoy sweet wine, they will love being served these affordable Moscato wines.

14 Hands Moscato
We love this brand because it's always easy to find in grocery stores. They also consistently produce highly rated wines at affordable prices. Their Moscato is slightly sweet, with flavors of mandarin orange, melon, and mango.

Cupcake Vineyards Moscato d'Asti
This is a very recognizable brand, and we're happy to report that their Moscato d'Asti is a fan favorite. This wine has an average of 4.2 out of 5 star rating on Vivino, making it a great value for the money.

Bartenura Moscato
Bartenura makes one of the best-selling Moscatos in the world, which is why we had to include it on this list. The wine is low in alcohol and has fresh flavors of melon and pear. It's a great option for a summer sipper.

Seven Daughters Moscato
You'll see Seven Daughters mentioned in our brand recommendations below, as they're one of the most popular producers of Moscato in the U.S. What you should know about this wine in particular is that it's got a lot of character. Made from 100% Moscato grapes sourced from Northern Italy, the wine is lightly effervescent and brimming with fruit and floral aromas. You can also see it featured on the blog Faux Martha, where she uses it to make a white wine gravy. What can't this Moscato do?

Gemma di Luna Moscato
We tried this Moscato at a wine fest last year and were completely hooked. It's sweet and fruity, and you can see below that it comes in the cutest packaging you'd ever want. This wine is a great choice for a festive event like a bridal shower or birthday party. It will make your whole table look gorgeous, and the wine is delicious!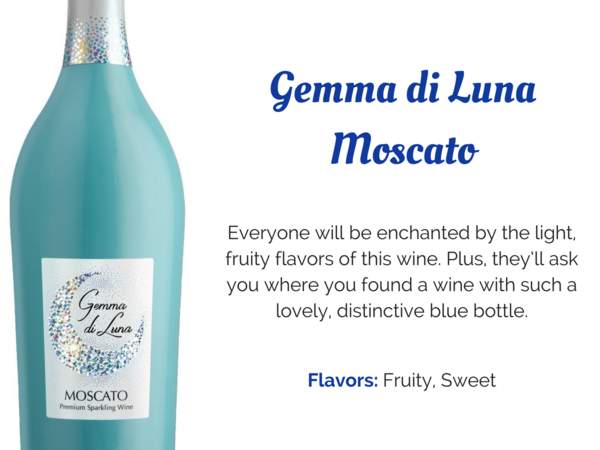 Best Moscato Wines Under $10
For a weeknight wine, it's always nice to be able to find a bargain bottle under $10. It's also nice to be able to find the wine you want in the grocery store (wine shops are fantastic, but when you're busy you don't want to make one more stop!).

Try one of these cheap Moscato wines that are a complete bargain. They'll make your average weeknight just a little sweeter.

Cavit Moscato
You'll see this wine everywhere, but don't let it's popularity scare you away. Cavit Moscato is made from 100% Moscato grapes, sourced from the province of Pavia, Italy. It's also vegan and gluten-free, if that's something you're looking for! This wine is crisp and inviting, with aromas of apricot and white peach. It also has a 4.1 out of 5 star average rating on Vivino.

Twisted Wines Moscato
Twisted wines Moscato is refreshing and lightly sweet, making it great for enjoying on a relaxing afternoon or evening. Pair it with slightly spicy foods like egg rolls or Asian-style party wings.

Lindeman's Bin 90 Moscato
A lot of the wines in this list are from Italy or the United States, but in this super-affordable category we've actually got a wine from Australia. We're all familiar with one wine brand from Australia that features a friendly kangaroo, but you might be less familiar with Lindeman's. This big brand had its humble beginnings in Australia's Hunter Valley in 1843, where the eponymous Dr. Henry Lindeman settled and began cultivating wine grapes. Today, this brand is sold in over 100 countries all around the world.

Barefoot Moscato
This is one of the most affordable Moscato wines out there, and it's a good value for the money. If you're looking for a wine that is fruity, crisp, and sweet, then you'll enjoy Barefoot Moscato. Be sure to serve it cold, and enjoy it on a relaxing evening! It's delicious with a variety of fried appetizers, Chinese food, or even fruity desserts. We would definitely enjoy it alongside a slice of apple pie.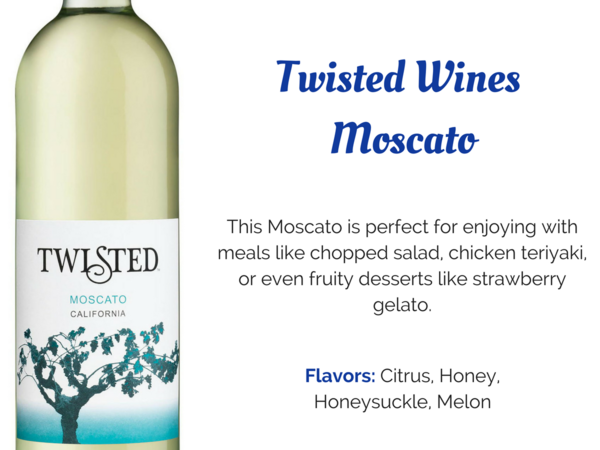 Good Cheap Moscato Brands
Sometimes it's better to have a brand that you can trust, rather than a specific wine. Here are some great cheap Moscato brands that have affordable wines for you to try.

Castello del Poggio
This brand is ​included in Vinepair's list of most popular Moscato wines. It was also a top choice among our newsletter readers this fall.

Seven Daughters
This was another top pick from our Wine Buying Guide weekly newsletter. This brand started with just two types of wine - a red and a white - and has since expanded to offer many more wines, including Moscato.

Middle Sister
Middle Sister wines taste good and are also pretty fun. They have sassy branding and cute labels, and their "Sweet & Sassy" Moscato won a gold medal in the 2017 International Women's Wine Competition.

Flip Flop
These wines are recognizable because of their label, and they're as laid back as you might expect. Their Moscato is crisp and sweet, and it received 91 points in the 2017 Great Value Ultimate Wine Challenge. They also have pink Moscato, and some of their wines come in cans!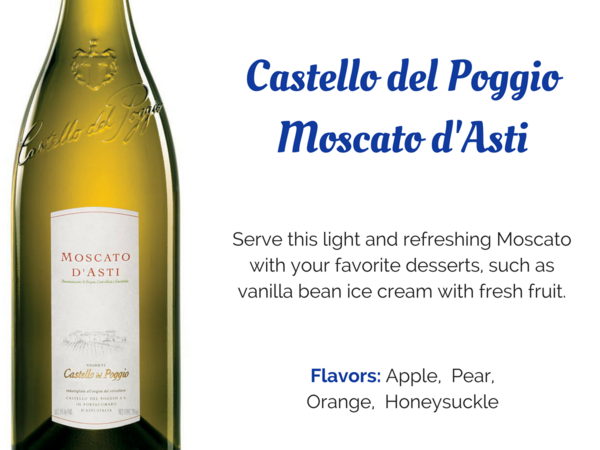 What are your favorite cheap Moscato wines? Let us know in the comments below!
RECENTLY VIEWED
Free wine recommendations, giveaways, exclusive partner offers, and more straight to your inbox!