13 Spooky Halloween Wines and Cocktails
Throw your best hair-raising party ever with these Halloween wine cocktails and spooky bottle designs.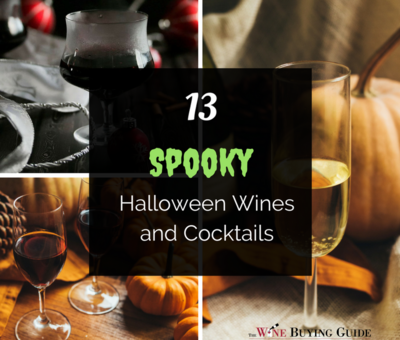 Your Halloween party may be a spooky spectacular.

But that doesn't mean picking Halloween wines for your party has to be scary!

We have a great list of Halloween themed wines that you can pick up at your local wine shop or grocery store. With names like Black Magnolia Pinot Noir and Ghost Pines Chardonnay, you don't need to print out any crafty labels for these wines. They'll fit right in with your fearsome decor.

If you are in the mood to make something crafty, like a Halloween wine cocktail, we have our favorite recipes for you below. We also have wine pairings for Halloween candy (don't call us about the hangover) and clever names for making your own creepy wine labels.

It's Halloween, and we have everything you need to make your spooky wine party a hit.
Table of Contents
Spooky Halloween Wines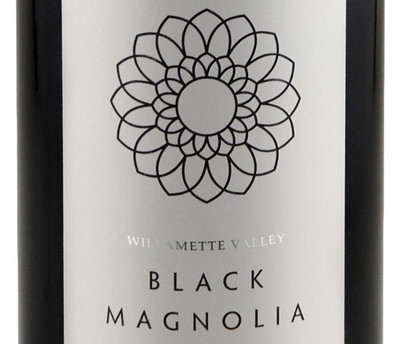 When you're gathering wine for a Halloween party, it's always more fun if you can find some festive bottles.

It turns out that there are a lot of wines that have spooky names!

These red and white wines can be found at your local wine shop or grocery store, and there's no need to dress them up with a festive name.

Of course, it's not enough for a wine to have a cool name. It has to taste good as well, and these wines do. Your wine-loving friends will enjoy these bottles, and you can enjoy being the host with the great wine.
Halloween Wine Cocktails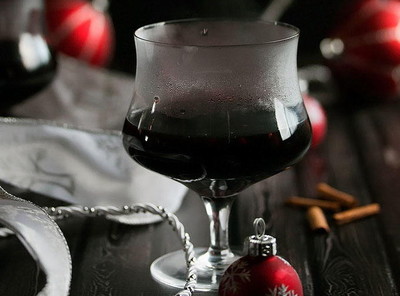 No party is complete without a delicious Halloween punch of some kind!

There are many different recipes for Halloween cocktails with wine out there, but we've gathered some of our favorites here for you to enjoy.

Whether you enjoy a delicious drink with white wine or a spooky take on your favorite sangria recipe, we have you covered. Enjoy these recipes.
Halloween Names for Wine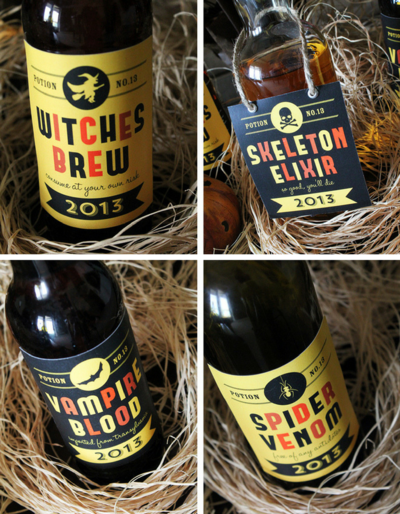 Maybe you already have a favorite wine that you want to serve at your Halloween party.

In that case, all you need to do in order to make it party-ready is to come up with a great festive name for it!

You can put these goofy fake names on your Halloween beverage menu, or you can even make crafty labels like these fabulous designs from Michelle at Elegance and Enchantment. Either way, here are some ideas for creatively naming your wine at a Halloween party.

If you have any other suggestions, let us know in the comments below!
Ghostly White Wine
Vampire Blood Red Wine
Witch's Brew Red Blend
Spine-Tingling Riesling
Mad Scientist's Malbec
Curse of the Mummy Moscato
Sauvignon Boo!
The Walking Red
Zombie Apocalypse Zinfandel
Photo courtesy of Elegance and Enchantment.
Whether you're new to wine or have enjoyed it for years, knowing how to serve wine can raise a lot of questions. That's why we've created our new free eBook, The Complete Guide to Serving Wine. Full of easy tips for serving and enjoying wine at home, it has everything you need to open your favorite bottle with confidence. The Complete Guide to Serving Wine
Wine for Halloween Candy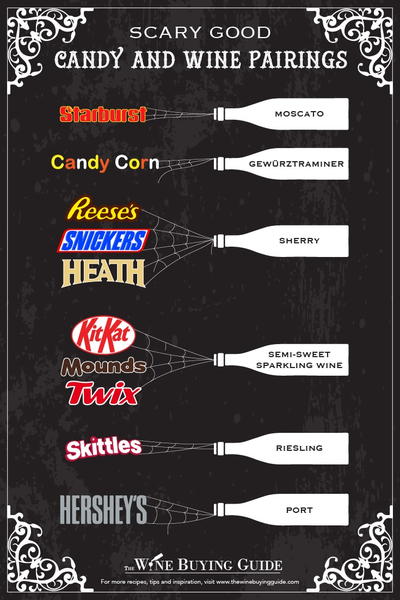 Who says Halloween candy is just for kids?

These wine and Halloween candy pairings are the perfect addition to your grown up party. You can set out bowls of your favorite treats, complete with cards suggesting different wine pairings (no tricks!).

Here are some of our favorite wines for Halloween candy. These pairings are a little unconventional… but we think they'll still be a hit with you and your guests.

Plus, these pairings aren't just for parties. They also make a great treat for you on any October evening.
Starburst - Moscato
Skittles - Riesling
Candy Corn - Gewurztraminer
Hot Tamales - Riesling
Reese's Peanut Butter Cups, Snicker's, Heath - Sherry
Hershey's Chocolate - Port
Kit Kat, Mounds, or Twix - Semi-sweet sparkling wine
What's your favorite Halloween candy and wine pairing? Let us know in the comments below!
RECENTLY VIEWED
Free wine recommendations, giveaways, exclusive partner offers, and more straight to your inbox!