Types of Wine: Rose Wine
Rose wine is refreshing and delicious in any season.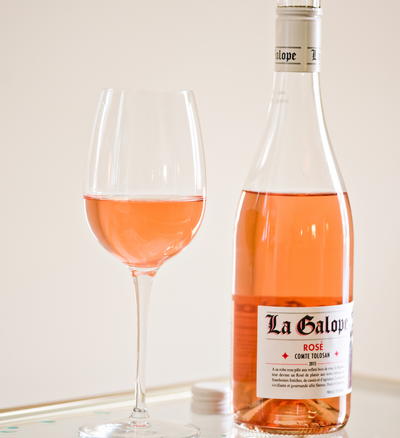 Learn about rose wine
Rosé wine is recognizable by its pink color, and it is popular as a spring or summertime sipping choice. Some people assume that all rosés are fruity and overly sweet, but don't let this pastel-colored wine fool you. While many varieties are fun and fruity, you might be surprised by the range and versatility of rosé wines.
 
Rosé wine is made by lightly crushing red grapes and leaving the skins to macerate for a short time. The skins are then strained out to prevent further coloration (the skins would stay in the mixture if you were making a red wine). This tints the wine with its distinctive pink color. Rosés can be dry or sweet and pair well with flavorful spicy foods. You can also typically get great rosé for an affordable price (under $15).
 
In order for a wine to be accurately called rosé, it must be made with all red wine grapes. Blush wines are often made with a mixture of red and white wine grapes.  You'll find many pink wines that look like rosé (and may be sweet, fruity, and tasty), but they may actually be a lower quality blush style wine. Think popular, inexpensive bottles of White Zinfandel, which is often overly sweet and lacking in nuance and flavor.
Rosé may be labelled by the red grapes used to make the wine.
Different types of rosé wine will have different flavors, depending on the grape varietal each wine is made from.
Grenache Rosé is a fruity, bright rosé wine that is typically a bright red in color. Despite its fruitiness, the Grenache Rosé will have a higher acidity and will pair well with spicy foods.

Tempranillo Rosé is made from Tempranillo grapes and is more savory than many rosés. The flavor will have some herbaceous and spicy notes, with fruit notes of watermelon and strawberry. You may also find this wine labelled as a Rioja Rosé.

Pinot Noir Rosé is light and bright, with delicate fruit flavors such as crabapple and strawberries. The light-bodied Pinot Noir grape makes for a delicate and unique rosé.

Syrah Rosé that's made in the United States is typically a darker red rosé. It will have bolder flavor, with notes of white pepper, cherry, and peach skin. You can serve this at a warmer temperature with some spicy food.

There are many other types of rosé wine, because there are many other varieties of red wine grapes.
Rosé may also be labelled by the style or origin of the wine.
Rosé wines often include a blend of different red wine grapes and so are labelled by the style or origin.
Provence is a dry rosé from France that is popular among wine lovers. It is typically 60% Grenache grapes (see above), with a blend of other grapes included. This wine goes excellently with seafood and light pastas.

Italian Rosato is an Italian Rosé wine. This rosé wine can vary widely in flavor depending on the region where it is from. Try looking at the grapes used to produce your bottle, and the flavor profile on the bottle, to determine which varieties you would enjoy.

Spanish Rosado is a Spanish Rosé wine. As with Italian Rosato, this wine can vary in flavor, but will typically be made from mostly Grenache grapes. Other grape varieties such as Merlot, Tempranillo, and Cabernet Sauvignon may be mixed in with the Rosado.
Great Rosé From Our Wine Catalog
We have many different types of rosé wine in our catalog. Enjoy selecting your favorite!
What rosé wine do you love? Give us your recommendations in the comments below!
RECENTLY VIEWED
Free wine recommendations, giveaways, exclusive partner offers, and more straight to your inbox!