Best Wine with Pizza
Find the best type of wine to drink with your favorite pizza!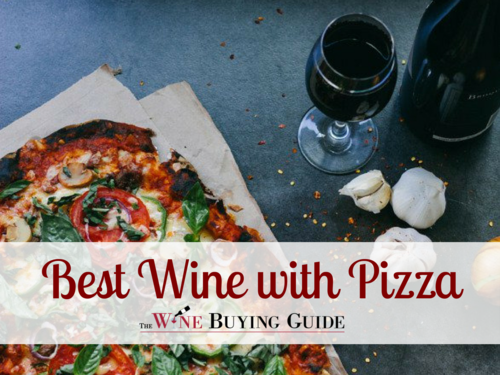 It's Friday night, and you've decided to order pizza for dinner. Attempting to wind down after a long work week, you decide that a glass of wine is absolutely essential. Yet, you can't just drink any type of wine. You need a bottle of wine that'll perfectly complement your pizza. 

Like any other food and wine pairing, finding the best wine for your pizza can be a complicated and confusing process. Depending on the pizza's toppings, a white wine may taste best with your dish, or you might need a certain type of red white for the perfect combination. 

In general, a full-bodied wine is best for a cheese, pepperoni, and sausage pizza. Other pizzas, such as Hawaiian, Margherita, and white pizza, need a lighter wine. However, each pizza style has its own unique flavors, so you shouldn't pair the same wine with all of these pizzas.

Before you take that first bite of your pizza and sip on your wine glass, discover the tastiest wine and pizza pairings with this helpful guide. With this Best Wine with Pizza article, you'll know which wine goes with your favorite pizza. Whether you enjoy cheese or Hawaiian pizza, you'll pick up the right wine bottle for your next pizza night after reading this guide.

Best Wine with Cheese Pizza
Cheese pizza may be a classic, but you can't pair it with just any type of wine. Slathered in a delicious red sauce, a slice of cheese pizza tastes best with a slightly acidic wine, such as Montepulciano or pinot noir.

As the focal point of the pizza, the red sauce contributes an acidic taste that's not too overwhelming. The lightly aromatic red flavors of pinot noir and Montepulciano pair well with the sauce and blend perfectly with the pizza's taste. 

Wine Pairing with Margherita Pizza
Topped with smooth mozzarella, fresh basil, and other flavorful ingredients, Margherita pizza is delectable. Yet, it tastes even better with a glass of pinot grigio or a dry rosé.

Typically, if you're eating a slice of Margherita pizza, you should choose to drink a light red or white wine that'll match the herbaceous tones of the pizza. As light wines, dry rosé and pinot grigio will highlight the pizza's flavors and its fresh ingredients.

If you prefer dark red wine, try pairing your Margherita pizza with Garnacha. This wine makes a great substitute!
Best Wine with Pepperoni Pizza
Nothing beats a cheesy and saucy pizza slice covered in pepperoni. If you've ordered a pepperoni pizza for dinner, buy a bottle of Syrah or Cabernet Franc to pair with your pizza. 

Adding pepperoni to your pizza contributes a strong meaty flavor that's full of bold spices. The flavor of the meat seeps into the pizza slice, so every bite will taste like pepperoni-goodness.

So, you'll need to match your pizza with a full-bodied wine. Syrah and Cabernet Franc have strong flavors that'll perfectly counterbalance the pepperoni. Their intense taste will make it easier for you to wash down the overpowering meat.

Hawaiian Pizza Wine Pairing
Pineapple on pizza? This topping combination may be up for debate, but this pizza and wine pairing isn't!

With its sweet pineapple and salty ham flavors, a slice of Hawaiian pizza and a glass of Riesling creates a heavenly combination. As a sweeter wine, Riesling perfectly matches the pineapple on the pizza, and it'll wash the pizza's aftertaste from your mouth. This slightly acidic wine will highlight the ham's flavors, and it'll cut through all the pizza's dense taste.

If you're not a fan of Riesling, pair your Hawaiian pizza with a fruity and sweeter red such as Zinfandel.

Best Wine for Sausage Pizza
Do you love ordering sausage on your pizza? As a rich and meaty pizza, a slice of a sausage or meat lover's pizza tastes best with Cabernet Sauvignon or Syrah wine. 

Topped with rich meat and spices, you should eat your pizza with a full-bodied wine that contains a high acidity. Since a sausage pizza tastes bold and meaty, Syrah and Cabernet Sauvignon matches the pizza's intense flavors. The wines' dark fruit flavors of olive, blackberry, and plum counterbalance the sausage without being overwhelming. 

Wine Pairing with White Pizza
Unlike the traditional red sauce pizza, white pizza is covered in ricotta and mozzarella cheese, and it's much less acidic. Due to its cream-based flavors, a slice of white pizza should be paired with Pinot Noir or Chardonnay. 

Complementing the pizza's flavors, these wines have a naturally "creamy" taste that's lower in acidity. As a result, this wine and pizza pairing brings out each other's flavors in a perfect way. Moreover, Pinot Noir and Chardonnay are often known for complementing the green herbs that are often topped upon white pizza.
What's your favorite wine and pizza pairing?
Let us know in the comments below!
RECENTLY VIEWED
Free wine recommendations, giveaways, exclusive partner offers, and more straight to your inbox!