Delicious Wine Pairings with Pork
Discover 8 delicious meal ideas and wines paired with pork.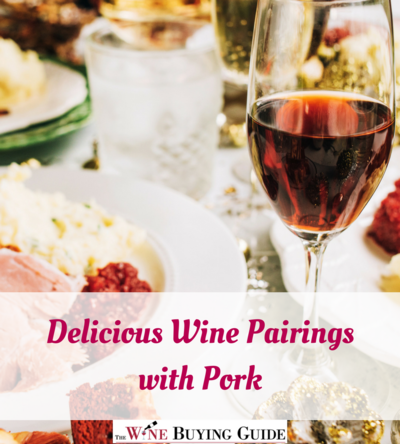 Delicious Wine Pairings with Pork
Pork doesn't often get the credit that it deserves. Routinely in the shadow of rich beef or versatile chicken, people tend to forget that this delicious dish is the center of many important food moments. After all, what's summer without a barbecued pork sandwich? Wouldn't Christmas and Easter be flavorless without a holiday ham? There's also something transcendent about the perfect roasted pork and apples that just begs for a perfect wine to match. Pairing wine with pork is a delightful task, because it is a versatile dish that is delicious with a variety of wines.

It's actually the preparation of the meat that gives the best clues for a delicious wine pairing with pork. Roast pork is delicious with light and fruity red wines, like Pinot Noir or Beaujolais. Pork with cooked fruit, like apples or cherries, can pair with white wines like Chardonnay or Viognier. This versatile meat can pair with a wide variety of foods, and we have some of the most mouthwatering combinations listed below for your cooking pleasure.

After you look at our ideas, tell us: what are your favorite wines to pair with pork? Tell us about your tried-and-true pairings, your surprise successes, and your best stories about pairing wine and food. Simply leave a comment below and join the conversation!
8 Outstanding Wine Pairings with Pork
Wine Pairings for Grilled Pork
Rich and spicy barbecued pork is a natural match for bold, fruity red wines like Zinfandel or Australian Shiraz. Pulled pork and pork ribs are both delicious with these wines. If you're looking for a specific wine to try, pick up the DAOU Reserve Zinfandel.

A refreshing dry Rosé can also be a great match for spicy barbecued pork. Instead of standing up to the rich flavor, a rosé will balance the strong flavors with something cool and refreshing.

Grilled pork chops pair well with lighter red wines like Grenache or Gamay (aka Beaujolais). Grilled foods of any kind are a classic Malbec food pairing, so that is another great option.

Try this Joseph Drouhin Brouilly Domaine des Hospices de Belleville 2014.
Wine Pairing with Roast Pork
Roasted pork tenderloin and apples is a classic dish that is delicious with rich white wines or light-bodied red wines. Chenin Blanc or Chardonnay are great options. For red wines, Pinot Noir with pork is a tried-and-true combination that works well here. Try this pairing with the Talbott Kali Hart Pinot Noir.

Chardonnay is a delicious wine with herb-crusted roast pork shoulder. Herbs add character and savory flavor to a pork roast, and a white wine with personality is the perfect match to bring out those flavors. Try the J Vineyards and Winery Russian River Valley Chardonnay.

Roast pork and apricot sauce is a great match with Viognier or Chardonnay. The fruit in this pork dish is a classic combination with rich, fruity white wines. Try this Yalumba Eden Valley Viognier 2014.
Holiday Wine Pairings for Pork
Try one of these wine pairings with pork during the holiday season. Whether it's Thanksgiving, Christmas, Easter, or any other festive occasion, these wine pairings will be a great addition to your meal.

Off-dry German Riesling is a fantastic wine pairing for honey-baked ham or roasted pork belly. This slightly sweet white wine is perfect with sweet-and-savory dishes, so it's a natural match here. Try it out with the S.A. Prum Essence Riesling. Merlot is also a good, easy-to-drink option if you want a red wine with ham.

Salty pork charcuterie (appetizer platter, anyone?) is delicious with a light red wine like Beaujolais. It is also great with a refreshing wine like Rosé, which cuts through the rich saltiness of the food. Try it with this affordable La Vieille Ferme Rosé.

Best wine with Roasted Pork Tenderloin? Fruity and inviting, Pinot Noir is a classic pork tenderloin wine pairing. Enjoy the balance of rich flavor and light textures in this match.

See for yourself with the Erath Oregon Pinot Noir 2014
What wine do you love to drink with pork?
RECENTLY VIEWED
Free wine recommendations, giveaways, exclusive partner offers, and more straight to your inbox!