Cariñena, Spain: A Region to Watch
This beautiful region is home to excellent value in red wine.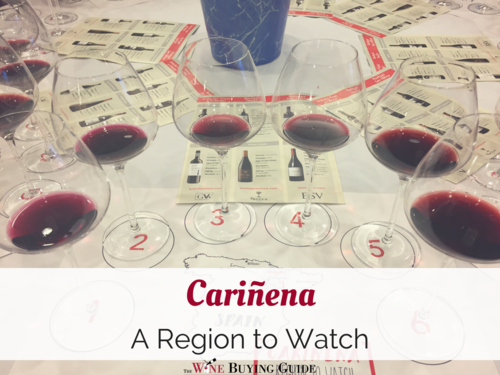 The more I learn about Spain, the more I think that I've got much more to learn about Spain. This goes doubly for the wine.

At the Wine Bloggers Conference 2017 in Santa Rosa, California, I attended two wine exploration sessions on Spanish Wine. Although they had expert host Lyn Farmer in common, the wines and the regions couldn't have been more different.

The wines of Rías Baixas are crisp and minerally white wines, with electric acidity. And they're found in a region that's aptly referred to as Green Spain.

The wines of Cariñena, on the other hand, are rich and age-worthy reds, grown in a dramatic landscape of red, rocky soil. It's hard to think of two regions and wines that are less alike.

Unless, of course, you're talking about the quality of the wines. Both regions boast an array of inviting, delicious wines that tell a story. And the story of Cariñena is definitely one worth hearing (and tasting!).
Cariñena: A Region to Watch
D.O.P. Cariñena is located in the northeast part of Spain, in the Ebro Valley in the region of Aragón. This region has a dramatic geography and climate, with its rocky red soils and high elevation. The vineyards range from altitudes of 1,300 feet for the lower vineyards to 2,600 feet for those higher up.

This location has significant temperature changes between night and day, encouraging the development of vibrant aromas and flavors in the grapes. Additionally, the Cierzo winds from the north bring gusts of cool, dry air that protect the health of the vineyard by keeping the grape canopies disease-free.
Garnacha: A Grape to Watch
Garnacha (or Grenache) grapes have been made into wine for centuries. In fact, some of the vines that are still in production today have been around for a hundred years or more (more on that later). Grenache is also part of some of France's most famous wine blends.

Why, then, should we pay special attention to the Garnacha that's coming out of Cariñena right now?

For one thing, the value is incredible. The Garnacha wines coming out of this region are high quality, and many are available for under $20 per bottle.

To get more specific about the quality of the wines: they are are smooth, complex, and fruit-forward, with playful flavors of strawberry, raspberry, and jam. They're typically full-bodied, with low tannin and high alcohol.

The grapes grown in this region benefit from the age of the vines, as well. Vines that are 30-40 years old are common, but some of the oldest plantings date back over a century. This leads to highly concentrated flavors in the grapes, and the resulting wines benefit immensely. Like Zinfandel, Garnacha is a grape that benefits from some age on the vines.

In addition to the old vines, the wines from Cariñena are interesting for another reason that has to do with age. Traditionally Garnacha from this area has been enjoyed young, but winemakers today are beginning to experiment more with aging the wines. The results have been encouraging, as we got to see during our tasting at the Wine Bloggers Conference.

We had the opportunity to taste some Garnacha wines with some age, and they develop beautiful notes of vanilla and spice. A region to watch, indeed!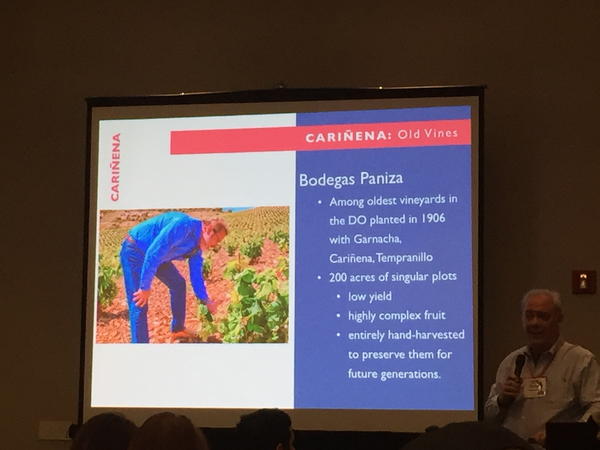 Wines to Watch
Now that I have you excited about these excellent wines, you should find some to try! We tasted six wines at the Wine Bloggers Conference, sampling a variety of Garnacha styles. Here is some information on each of the wines, as well as a few of my tasting notes.

GVV El Circo Acróbata Garnacha 2016
This is an unaged Garnacha wine, and I thought it was fruity and approachable, with notes of strawberry. It retails for around $9 per bottle, which is a terrific value.

BSV Particular Garnacha Joven 2016
This wine is also unaged, available for around $12-$14 per bottle. Its flavor profile is similar to the El Circo Garnacha, and it is also an excellent value.

Bodegas Panisa Vinas Viejas 2012
This wine is remarkable because of the age of the vines - up to 100 years old! This Garnacha is aged 6 months, and you can taste the added complexity with notes of vanilla and spice. It's a steal at $15 per bottle.

GVV 3C Premium Selection 2012
Made from the Cariñena grape, this wine has plenty of character and bright flavor, with notes of cranberry, raspberry, and spice. It's available for $20-$25 per bottle.

GVV Artigazo 2009
A blend of Garnacha, Syrah, and Cabernet Sauvignon, this wine has plenty of vibrant fruit flavor, with some savory notes to provide balance. It's elegant and, available at $17 per bottle, a bargain.

BSV Particular Centenarias 2012
With vines that are over 40 years old, and a minimum aging of 18 months, this wine is a lovely example of the unique character this region has to offer. It's smooth and luxurious, with red fruit and savory notes. And at $20-$25 per bottle, you can't go wrong.

Get your hands on these wines while you can, and enjoy the incredible value that they offer. And for another (equally effusive) perspective on this region, check out Michael Kelly's post over at California Wines & Wineries!

Cheers!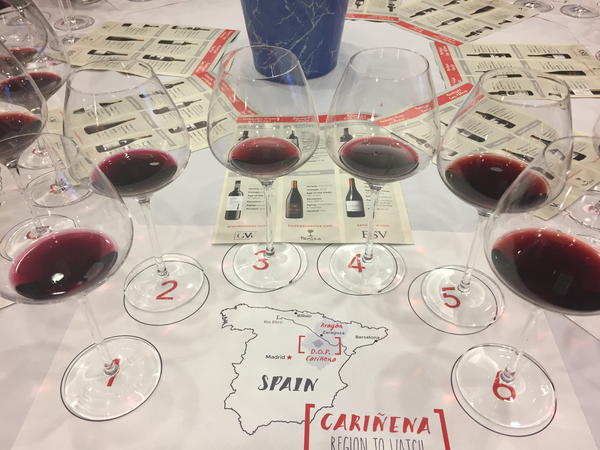 RECENTLY VIEWED
Free wine recommendations, giveaways, exclusive partner offers, and more straight to your inbox!