Wine Etiquette for Dinner Parties: Host and Guest Edition
Be everyone's favorite party goer with these wine etiquette tips.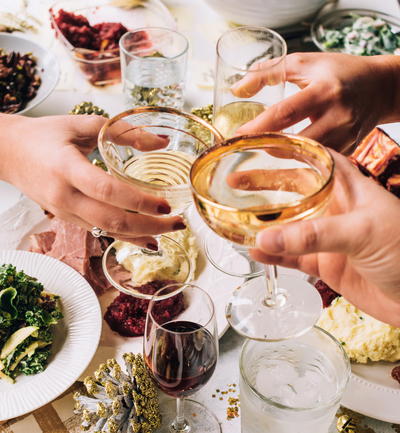 Wine Etiquette for Dinner Parties
You know that person who is always a class act, in every situation? He or she always knows the right thing to say, the right gift to bring, or the right moment to rescue you from an overly talkative relative.
 
That person also knows exactly what to do about wine at a dinner party. They bring the right wine, they know how to open it, and they're always gracious about sharing. Are you wishing you were this person yet? We wish we were, too! Luckily, we can help you become a gem when it comes to wine. We can make sure you practice perfect wine etiquette for dinner parties.

Wine drinking etiquette can be easily learned with a few simple tips. It's important to be gracious to your host and fellow guests, which we all want to be. Wine serving etiquette is the same. With a few clever ideas, you can be a gracious host and provide a great evening for your guests. Read on for a no-fail guide to wine etiquette for dinner parties.
Guests: Wine Hostess Gift Etiquette
Coming to a party with wine in hand is always a good idea. However, don't expect your host to always open the bottle you bring. They may have carefully chosen wine pairings for the evening, and so they'll enjoy your wine at another time. Your wine is a hostess gift, and it doesn't have to be shared with you.
Guests: Best Wine to Bring to a Dinner Party
If your host asks you to bring wine (in more of a potluck situation), then you can ask for the dinner menu so you can pair something. You can also bring a wine that is versatile and easy to match with almost anything. Merlot, Pinot Noir, Pinot Grigio, and Dry Riesling are all excellent and versatile food pairing wines. Sparkling wines are also always a hit.

Base your price per bottle on how much you guess that your host is spending on you. If you're going over for takeout and a movie, then $10 per bottle is fine. If it's a five course meal, then $20 or more is considerate. Bring a second bottle if you have a guest.

Here are some great suggestions from our wine catalog.
Hosts: Wine Serving Etiquette
As the host, your goal is to make sure that all of the wine is served properly. To do this, read our Guide to Serving Red Wine and our Guide to Serving White Wine.

What do you do with the wine that someone brings to the party? As stated above, you can do whatever is best for you and the party. If your dinner party is casual, then open the wine so that everyone can enjoy it. If you are providing wine pairings for each course, then don't feel obligated to change things up by opening a guest's wine.
Hosts and Guests: Opening and Pouring Wine
Open the wine by cutting the foil at the top or bottom lip. Either is fine, or you can slip off the foil entirely.

When you pour wine, serve others before serving yourself. Hold the wine bottle toward the base, and as you stop pouring turn the bottle toward you slightly. This prevents dripping.

Pour a standard serving of wine, which is about 5-6 oz. See the photo below.

A good rule of thumb is to pour to about the middle of the roundest part of the glass. If you have wine glasses that are very small or very large, adjust accordingly.

If you are about to finish off a bottle of wine, offer the people around you the chance to split the last pour with you (especially if it's a fancier bottle). If they decline, then enjoy it for yourself.
Hosts and Guests: Have Fun!
All of these wine etiquette tips are designed to help you and your companions have a fantastic dinner party. Enjoy sharing great wine and a great evening!
What's your best tip for wine etiquette for dinner parties?
RECENTLY VIEWED
Free wine recommendations, giveaways, exclusive partner offers, and more straight to your inbox!