Chocolate Wine Pairings: How to Pair Wine and Chocolate
For every burgeoning sommelier with a sweet tooth, here's our top chocolate wine pairings.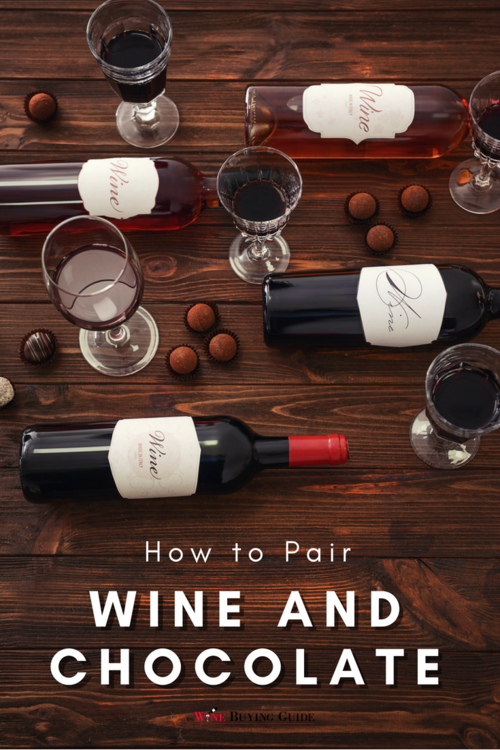 Wine and chocolate are possibly the two best food groups in the world. Whether enjoying a classy tasting party, having a night out on the town, or getting over a bad breakup, wine and chocolate make everything better. But if you want to elevate your wine and chocolate experience, consider indulging in some of these chocolate/wine pairings.

The unfortunate truth is that when pairing chocolate with wine, things can go wrong quickly. You could pour your favorite glass of dry red wine and pull out your favorite chunk of dark chocolate, only for both of them to suddenly taste bitter and sour. Luckily, this chocolate/wine pairing guide will help you avoid that confusion.

Discover what wine pairs well with chocolate and how to pair wine and chocolate. Whether you just want to taste chocolate and wine after a long day or your plan on sharing your newfound knowledge with your friends at the next get-together, you'll be surprised at this tasty, sweet combination.
Tips for Pairing Chocolate and Wine
In general, there's a few tips that are good to apply universally:
Choose a wine that is sweeter than the chocolate you are pairing it with. Otherwise, you could end up with two very sweet tastes overpowering each other, instead of a harmonious and complimentary pairing.

Pair wines and chocolates that are similar in intensity and weight. Light, elegant chocolates go well with light, elegant wines; rich, strong chocolates go well with rich, full-bodied wines.

If you are sampling multiple pairings, work your way up. Start with the light wines and chocolates and end with the rich wines and chocolates.

Beware polyphenols. Don't double up on bitter and sour tastes; a bittersweet dark chocolate alongside a tannic Cabernet Sauvignon or Malbec will leave you gagging.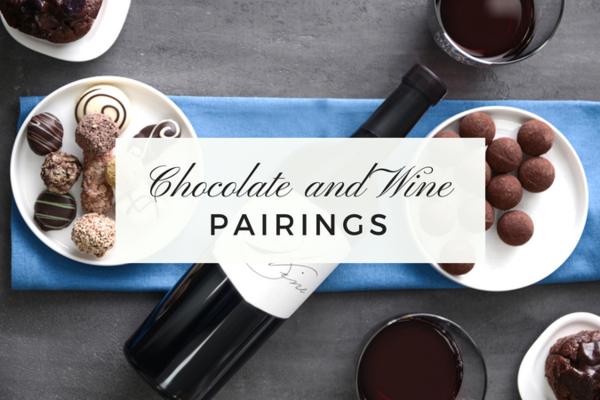 Milk Chocolate Wine Pairings
For a high-quality milk chocolate, target choices that are half cream and half chocolate. The extra fat from the cream will make milk chocolate quite easy to pair with wine.

You might want to choose Pinot Noir for its silky tannins and ripe, red fruit. To complement the smooth cocoa butter in milk chocolate, a medium-bodied Merlot is also a good choice. Of course, other sweet wines such as Rieslings, Muscats, and other dessert wines go excellent with the lovely, sweet tastes of milk chocolate. Or, you could go for a little bit of fun to go with a fruity, bubbly wine to bring out the chocolate accents.

The Bottom Line:

Pinot Noir, Merlot, Madeira, Moscatel de Setubal, PX Sherry, Creamy Sherry, Rasteau, Aged Vintage Port, Rutherglen Muscat

Dark Chocolate Wine Pairing
A true dark chocolate contains at least 35% cocoa solids. Because they can easily verge into being too bitter, be careful with dry wines.

Rather, dark chocolates pair well with full-bodied, robust wines, perhaps with a smidge of fruit or chocolatey flavors. Zinfandels are ideal for this. In fact, at the Wine & Chocolate weekends in Lodi, a wine growing region in California, there are frequent dark chocolate/Zinfandel pairings. Another good choice would be a Cabernet Sauvignon. If the cocoa solid content is getting higher, say around 55%, you may want to consider a Pinot Noir or Merlot.

The Bottom Line:

Zinfandel, Syrah/Shiraz, Port, Sherry, Vin Santo del Chianti, Pedro Ximinez, Banyuls, Chinato

White Chocolate Wine Pairings
Believe it or not, white chocolate is not technically chocolate -- sacrilegious, but true. White chocolate does contain cocoa fat, but it contains no actual coca. This makes it incredibly versatile in wine pairings.

Because it is so mellow and buttery, go with sweet sherry, or the subtle bubbles of Moscato d'Asti. Play with complimentary fruit flavors like an Orange Muscat. If you go with a Vintage Graham's Port, they will taste like blueberries and cream together. Additionally, white chocolate is the only chocolate that's truly suited for dry red wines!

The Bottom Line:

Ice wines, late-harvest Rieslings, Moscato, Cream Sherry, Brachetto d'Acqui, Lambrusco, Sweet Tokaji, Rosé Port, Beaujolais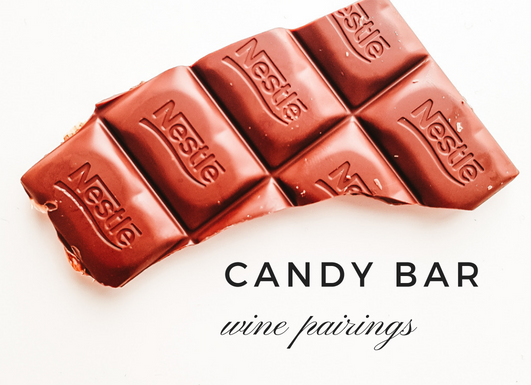 Candy Bar Wine Pairings
For a more casual selection of chocolate and wine pairings, scale back on the expensive chocolates and enjoy your favorite corner store candies.
Kit-Kat and Malbec Blend

Milky Way and Nebbiolo

M&Ms and Port

Snickers and Lambrusco Amabile

Reese's Pieces and PX Sherry

Butterfinger and Tokaji

3 Musketeers and Sparkling Chenin Blanc

Hershey's Chocolate Bars and Syrah

Twix and Vin Santo

Whoppers and Pinot Noir

Almond Joy and Sherry

Reese's Peanut Butter Cups and Lambrusco
What is your favorite chocolate and your favorite wine? Do you think they would pair well together, or would they be a total disaster?
RECENTLY VIEWED
Free wine recommendations, giveaways, exclusive partner offers, and more straight to your inbox!