5 French Wine Basics That Everyone Should Know
If you're confused by French wine names (never mind how to buy a bottle), read on!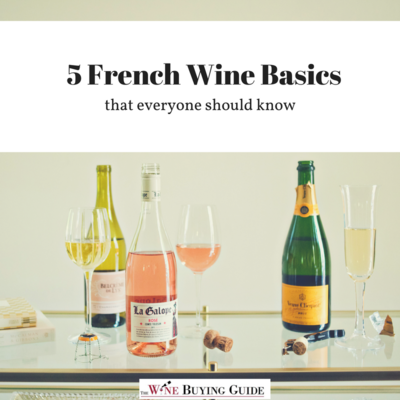 5 French Wine Basics That Everyone Should Know
Understanding French wine can be difficult for wine enthusiasts of all levels. The naming conventions seem opaque, the wine varietal is often not listed on the wine label, and the number of wine regions and winemakers in France can seem overwhelming.

The good news is that knowing a few French wine basics can reduce a lot of the confusion regarding French wine. It will still take a long time to learn about all of the French wine regions (there are more than 360 of them!) and history and nuances of French wine. You will certainly come across wines you don't recognize, as everyone does. But, a few simple tricks can help you feel less confounded by a French wine list.

You can enjoy French wine a lot by simply understanding French wine a little. Read on to learn about the basics that everyone should know.
French wine is named by appellation, not by wine varietal.
If you find yourself thinking, "Why don't I recognize any of these types of wine? I just want a glass of Chardonnay!" I understand. You won't often find a French wine labelled by varietal (e.g. Chardonnay, Pinot Noir, Syrah, etc.). Usually it's labelled according to where it is produced. For example, Burgundy wine isn't made from Burgundy grapes. It's wine that is made in Burgundy, France.

So, you can navigate a French wine list more easily if you know a few French wine appellations. My advice is to learn what areas produce your favorite types of wine or styles of wine. Then you can pick them more easily from a wine list.
Acronyms abound (and they mean something).
AOP. IGP. 1er Cru. Oh my.

In addition to the winery and appellation, most French wine labels will have some other types of wine designation. This is because French wine appellations– all 360 of them – are strictly controlled with quality in mind. This strict control allows you to know exactly what you're getting when a wine label gives you the appellation. Some regions are as small as one vineyard! The Appellation d'Origine Contrôlée (AOC/AOP) wine system includes AOP/AOC wines, IGP or Vin de Pays, and Vin de France. AOP is the most strictly controlled, and Vin de France was simply made in France.

You may come across some other designations on French wine labels, such as Premiere Cru (1er Cru), Grand Cru, or Grand Vin. These usually indicate a vineyard's quality or the quality of the wine.
Vintage year is important.
If appellation is the most important part of understanding French wine, then vintage year is a close second. With the exception of some sparkling wines, French wine is always produced using grapes from a single vintage year. A variety of factors like temperature, rainfall, and crop health can make wines made in the same place taste different from year to year. So, when someone says, "The 2010 Bordeaux wines are outstanding," they mean that everything came together well, and the 2010 crop of grapes and subsequent wine vintage turned out really great.

Use resources such as Robert Parker and Berry Bros and Rudd to find general opinions on French wine vintage years.
France is really good at making wine blends.
Most wines produced in the United States are made up of mostly one type of grape, like Pinot Noir, Chardonnay, and others. In France, some of the best wines are blends of three or more types of grapes. The Bordeaux red blend, for example, combines Merlot, Cabernet Sauvignon, and Cabernet Franc grapes. Other famous, and delicious, wine blends include the Rhône Red blend (Côtes du Rhône), White Bordeaux, Red and White Burgundy, Châteauneuf-du-Pape, and some types of Champagne.
You don't have to spend a lot of money on French wine. But you can.
French wine can be very expensive. The most sought-after vintages can sell for hundreds or even thousands of dollars per bottle. If you love premium wine from famous winemakers (that will taste amazing), then French wine can be an incredible experience.

If you'd rather spend less money, you can find great deals on French wine for under $20 per bottle. If you don't know what kinds of French wine you like, then spending less is a great option. Once you know what you love, then you can spend more money with more confidence.

Look for white wines from the Loire valley, such as Vouvray or Muscadet, for good values in French wine. Red wines from places like Languedoc have fruity and juicy reds. Some sub-appellations to try include Corbières and Minervois. Red Bordeaux and White Bordeaux can also be found for reasonable prices, even though they can also be very expensive. Look for good years for Bordeaux, because a good year means that even less popular winemakers probably made some great wine.
Recommendations are a great way to learn about French wine.
This is a bonus French wine basic. One of the best ways for beginners to learn about French wine is to try some. You can get advice from a friend who is knowledgeable, or you can visit a wine bar or restaurant. The servers and sommeliers will be more than happy to help you pick something that you will love.

Here are some recommendations from our wine catalog. Enjoy discovering French wine with these basic tips!
The steps to wine tasting are simple, and they are used by everyone from wine novices to sommeliers. Learn how to taste wine for yourself in just a few minutes. Wine Tasting 101: How to Taste Wine
What are your favorite French wines?
RECENTLY VIEWED
Free wine recommendations, giveaways, exclusive partner offers, and more straight to your inbox!