What is Bordeaux Wine?
Learn about the world's most famous red wine.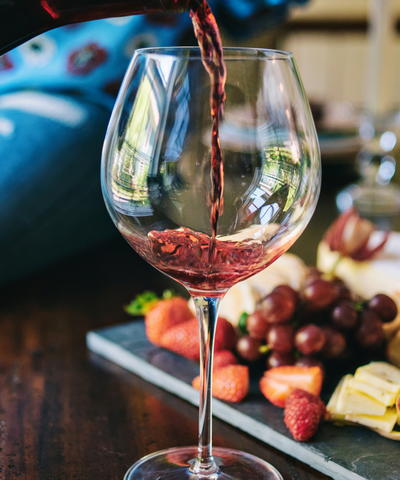 Learn about Bordeaux wine
Bordeaux wine is one of the most famous wines in the world. It's highly coveted, often very expensive, and makes its way into popular culture as a mark of sophistication and class. So, exactly what is Bordeaux wine?

Bordeaux wine is wine that is made in the Bordeaux region of France. The Bordeaux wine that is most famous and noteworthy is the dry red wine, although other types of wine are also made in the region. For many wine enthusiasts, red Bordeaux is the wine by which all other red wines are measured. It is complex, expertly balanced, and age-worthy.

The flavor of Bordeaux varies by the grapes used to make the wine. Merlot, Cabernet Sauvignon, and Cabernet Franc are the main grapes used in the Bordeaux wine blend. Different areas in Bordeaux use different proportions of these grapes, creating variances in flavor.

The different textures and flavors of Bordeaux are part of what makes this wine special. To learn more about this, we will discuss more about the wine region itself. Finally, we can discuss how to buy Bordeaux wine and how much you should expect to pay.
What is Bordeaux wine like?
The Bordeaux region is located in the south west of France, and the region is divided by a river estuary called the Gironde. Wineries from the left bank and right bank of the Gironde produce different blends of Bordeaux wine, with different flavor profiles and characteristics.
Left Bank Bordeaux
The left bank Bordeaux wines are bold, powerful red wine blends. They tend to be high in tannins and alcohol and they age well. The rich flavor of these wines is due in part to the blend of grapes. Cabernet Sauvignon is the primary grape used, with additions of Merlot and Cabernet Franc. Aromas and flavors may include cassis, black cherry, and pepper.

Médoc and Graves are the two main regions within the left bank. The bold and rich wines from these regions are the model for many of the Cabernet Sauvignon wines from California.
Right Bank Bordeaux
The right bank of Bordeaux also produces rich, flavorful red wines. However, they tend to be smoother and lower in alcohol, with juicier flavor. This is due to a higher blend of Merlot grapes in the wine. Merlot is usually the grape in highest proportion, followed by Cabernet Franc and Cabernet Sauvignon. Aromas and flavors in the wine may include licorice, plum, blackberry, and jam.

Libournais is the name of the wine region on the right bank. Wines from this region may usually be enjoyed younger than left bank Bordeaux wine, and they are often less expensive.
White Bordeaux
Dry red wine is not the only type of wine produced in Bordeaux. White Bordeaux is another important type of wine from the region, and it enjoys its own recognition. Dry White Bordeaux is primarily a blend of Sémillon and Sauvignon Blanc. This is a fresh, zesty white wine with the potential to develop deep and concentrated flavor with age. Pessac-Léognan is one of the top regions in Bordeaux for White Bordeaux wine.

Sauternes is a sweet, honey-golden dessert wine that is also produced in Bordeaux.  This wine is rich and fruity, with honey and floral flavors. It is extremely age-worthy and can develop in flavor for decades.
How do I buy Bordeaux wine?
Decide whether you want a wine to enjoy now or later, and decide how much you can spend.

Bordeaux wines that are meant to be enjoyed young are usually much less expensive. Bordeaux wines with a high proportion of Merlot, or wines from the right bank, are usually meant to be enjoyed young. Their flavors will usually be juicy, with flavors of plum, berry, and licorice. Prices for these Bordeaux wines may range from $15-$40 per bottle.

Purchasing age-worthy Bordeaux wine can be a more interesting project. Some vintage years stand out in quality, and these can be great purchases. For example, the 2005 and 2010 Bordeaux vintages (and 2009 to a lesser extent) are highly regarded. Purchasing a bottle of these to cellar would produce an enjoyable return 10-20 years from vintage. It is important to cellar these wines for the recommended amount of time, because the wine may taste unpleasantly tannic and harsh if opened too young. You might expect to pay $35-$100 per bottle for a good value on these wines, with very popular wines ranging to $200 and more.

You can also purchase an age-worthy Bordeaux wine that is ready to drink now. However, these wines often cost $200 per bottle and up, depending on the vintage year and popularity of the producer. It is also possible to purchase Bordeaux wine "futures," which means ordering wines before they are released. The prices on these range greatly, and purchasing is a gamble on the ultimate quality of the wine.
Learn about more types of red wine, and never mistake a Pinot for a Merlot again.
Could you wait for a wine to age for 20 years before drinking it? Tell us your best cellar stories in the comments below!
RECENTLY VIEWED
Free wine recommendations, giveaways, exclusive partner offers, and more straight to your inbox!